Four times this season, Cardinals games have been shown exclusively on streaming services. There was no traditional television coverage of those contests, on local carrier Bally Sports Midwest or anywhere else.
This portion of Major League Baseball's media contracts has riled many Redbirds rooters who do not have access to the streaming outlets. But those complaints figure to be a mere ripple compared to what could unfurl Friday, when Apple TV+ exclusively shows the Cardinals-Dodgers game from Los Angeles that starts at 9:10 pm (St. Louis time).
Not only is it a matchup of first-place teams, it is possible that the Cards' Albert Pujols could hit his 700th career home run that night. He enters that contest two homers short of becoming the fourth player in MLB history to attain the milestone.
So a season-long buildup of "Pujolsmania" in his return engagement with the Cardinals could reach a crescendo in a game a lot of the team's fans will not see. Although there is no charge to view the streaming production, an Apple account is needed. So is a device that can receive the feed, such as a smartphone, tablet, smart TV, etc. — equipment that some fans, especially older ones, do not have.
"We spoke with MLB about the local concerns if Albert was on the verge of 700 home runs with no BSM coverage," said Cardinals senior vice president Dan Farrell, who oversees the team's broadcast operations. "Unfortunately, the MLB-Apple contract is very tight with no flexibility related to local telecaster accommodations for milestone events."
It's a similar situation in New York for the Yankees and Aaron Judge, who entering play Thursday was one home run behind Roger Maris' American League record of 61. Apple exclusively streams Friday night's Yanks-Red Sox game.
MLB Network has been cutting in to its programming to carry at-bats of Pujols and Judge lately when their games have been on regional sports networks. But MLBN won't do so Friday because Apple has stand-alone live coverage, though the baseball channel could show a homer shortly after the fact. ESPN also has cut-in rights but not for games shown nationally.
Streaming is becoming commonplace, with the biggest step yet being the NFL moving most of its Thursday night games off TV to exclusively being shown on Amazon Prime Video.
The Amazon debut came last week, and Nielsen, which measures viewership, says that Chiefs-Chargers game drew about 11.8 million viewers on Amazon. Unlike MLB, the NFL requires that the streamed games be simulcast on a TV station in the markets of the teams that are playing, and approximately 1.1 million people watched that way in Kansas City and Los Angeles to bring the total audience to about 13 million. Last year's first Thursday game that was simulcast on Fox and NFL Network drew about 15 million.
Meanwhile, this will be the final streaming-only Cards game of the season and by far the biggest. Apple has shown contests against the lowly Reds, Pirates and Cubs, though the latter is a big rivalry game. Peacock streams games on Sundays and had an early-season Redbirds game in Pittsburgh.
But the end of the Cards' streaming-only games for this year will be of little solace to many of their fans not only if Pujols reaches the milestone that night but even if they miss the opportunity to see him chase the landmark.
Redbirds TV viewers who are used to having Dan McLaughlin on the localized TV calls instead will hear a national perspective — provided they can access the feed. New York Mets broadcaster Wayne Randazzo has the play-by-play of the contest alongside analysts Chris Young and Russell Dorsey. Tricia Whitaker serves as the reporter.
McLaughlin, who is in his 25th season as a local Cardinals TV broadcaster, said he would not be disheartened to miss out on the call if Pujols reaches the milestone Friday. (McLaughlin and BSM have the rest of the Cards' regular-season games.)
"Would I be disappointed (personally)? No," he said. "The most important aspect of this is that he reaches 700 and beyond. (Would I be disappointed) from a fan and baseball consumer perspective? Yes. This moment should be available for every fan in the world to see. Who knows when or if it happens again. It's baseball history."
He'll be doing a few innings of the game on the Cardinals Radio Network, as he has done on occasion this year when Bally Sports Midwest telecasts are preempted by national productions. If he's on the air there Friday and Pujols would come up while at 699, McLaughlin said he would turn the microphone over to lead radio announcer John Rooney and then hope for the milestone.
"I'll stay silent and let John Rooney knock it out of the park," McLaughlin said. That's his call and he deserves it."
Connecting to Apple TV+
Here are ways to access Friday's Cardinals-Dodgers telecast on Apple TV+, per Major League Baseball and Apple. Remember, an Apple account is needed:
Launch the Apple TV app and select the game directly from there.
From the MLB.TV app, tap on Apple TV+ Game. You will be redirected to the Apple TV app (where available).
Go to https://tv.apple.com/ and log in with — or create — an Apple ID.
It is recommended that those who have not watched Apple before try to connect early. Apple's Red Sox-Yankees game starts at 6:05 pm
Additional connection information is at: https://support.apple.com/en-us/HT213099.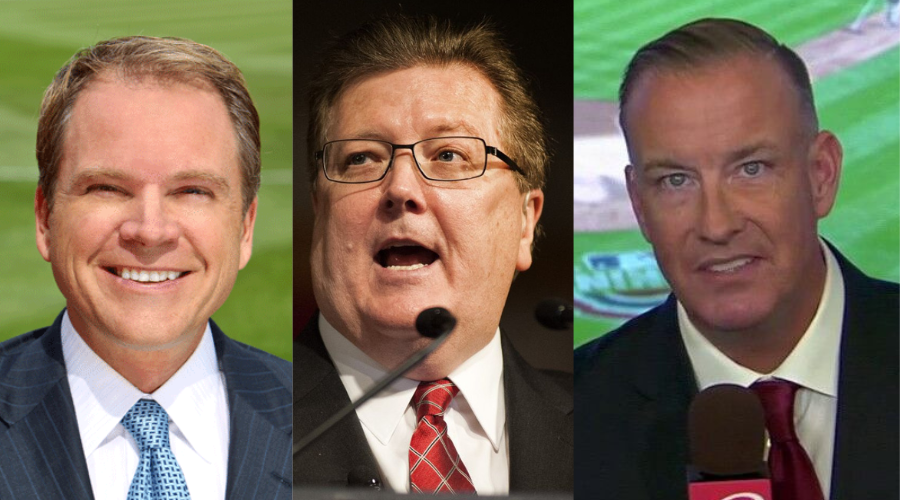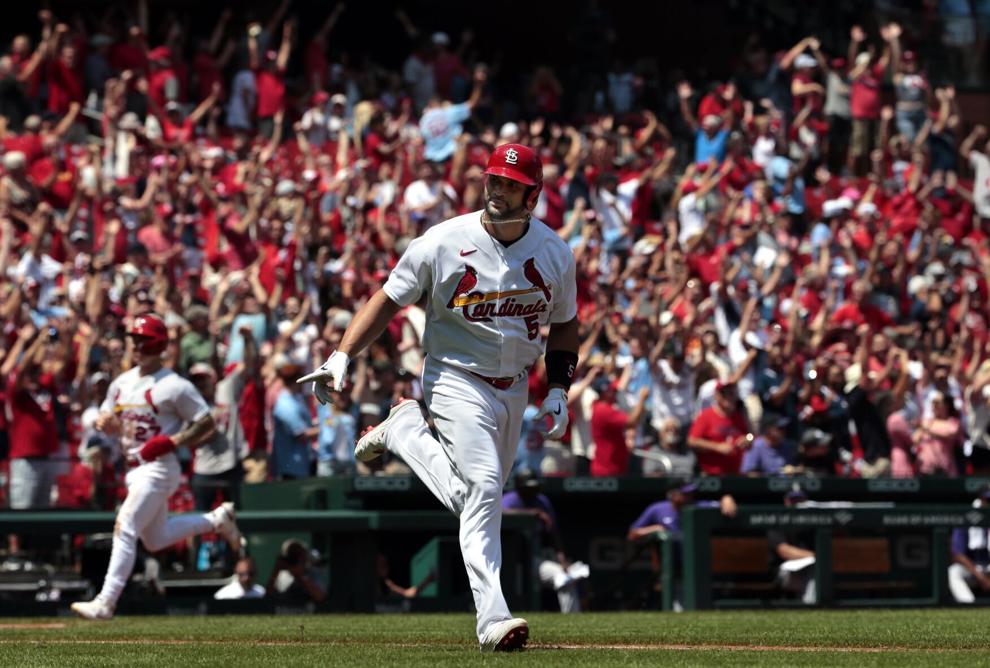 .